CHALLENGE: Valuable Video Trapped on Legacy Media
A treasure trove of video content is locked up in legacy tape- and disk-based media. Converting to streaming formats is moving to the front burner for all types and sizes of organizations. While you can spend a small fortune converting legacy content, there are also some reasonably priced, easy-to-use tools that can do the job. ABC.
Most large and small organizations have some useful video content available only on VHS tape, DVD, or other tape- or disk-based media. As Internet video compression, streaming, and playback technologies have evolved, converting those assets to Internet streaming video formats has become a priority for many progressive organizations. While this can be a cumbersome and time-consuming process, tools for doing this are now readily available, and the resulting video offers a level of quality that most viewers will find quite acceptable.
[ensemblevideo contentid=fGtHTlD3rUOUOvSCeyrsnA]
With a some low-cost conversion tools and Ensemble Video, you can unlock that content and easily make it available to viewers in and out of your organization. You may not end up with pristine archival quality media, but for many folks just extracting reasonably good quality streaming video from legacy media is good enough.
DVD "rippers"
If your source media is DVD, you may be able to "rip" audio/video from the DVD with a program like Magic DVD Ripper or Xilisoft DVD Ripper.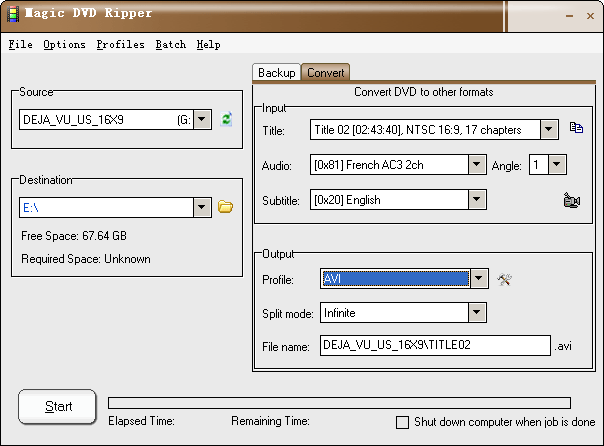 I've had mixed results with these tools, but if they are inexpensive and often offer a free trial version, so you can try the software with your DVDs, and if it gives you what you need, you're all set. (Always be sure you have proper licensing or copyright clearance before converting any media!)
Analog to digital conversion
With VHS tapes (and DVDs that can't be easily or effectively ripped with software) you will have to use some sort of analog-to–digital conversion tool. Fortunately, there are now inexpensive tools that can make this fairly easy.
For example, Grass Valley (formerly Canopus) has a line of analog to digital converters that take RCA and S-Video outputs from a DVD or VHS tape player, and output digital video through a Firewire connector. Above is the entry level ADVC-55 device which costs somewhere in the neighborhood of $150.00 last time I checked at bhphotovideo.com. You can hook it up with a computer that has a Firewire connector (most modern computers do), and capture video with software like Adobe Premiere, Final Cut Pro, Microsoft Expression Encoder, Windows Movie Maker, iMovie, or Adobe Flash Media Live Encoder. The ADVC-55, shown above, only converts video from analog to digital, with output to a Firewire connector. Grass Valley also sells more expensive converters that can convert digital video to analog, and have digital noise reduction and image stabilization filters to improve video quality.
Depending on which video capture software you choose, you may be able capture to relatively high-quality video video file, then edit and export to a video in a streaming format like MP4, FLV, or Windows Media. Or you may want to capture directly to compressed file suitable for Internet delivery.
The Blackmagic Video Recorder (shown above) is another device I've seen recently, and it seems like a great product as well. It's in the same $150 price range as the DVC 55, but it uses a USB connector and comes with software that makes it easy to capture an MP4/H.264 video, which will stream and play nicely across the Internet, or your institutional Intranet.
Converting entire libraries
In many cases complete libraries of content are being converted to streaming video formats. The cost benefit is usually based on improved global, 24×7 access to video with minimal staff support. To achieve the desired return on investment, the cost of converting media must be kept very low. Many organizations recognize that the right tools are now available to do the job; and in many cases employees who used to manage physical media asset libraries are being asked to convert video from legacy media to streaming formats. As they complete library conversion, these staff members can be re-focused on other media support tasks, enabling increased productivity and capacity for useful new services.
I visited Colgate University recently, and Rich Grant, Associate Director of Technology Planning, showed me a video conversion setup he had put in place for converting VHS tapes to streaming MP4 files. The converted MP4 files are ready to stream, and can be uploaded, cataloged, and published via Ensemble Video, and streamed from their Adobe Flash Media server.
They start with a professional VHS player, output analog video to a higher-end Grass Valley converter (the ADVC-300) which has filters that can improve picture quality, and that in turn feeds analog output to a Blackmagic Video Recorder, which is connected to a Windows PC via USB. The Blackmagic Video Recorder software enables an operator to easily capture, crop, and trim video from the source VHS tape. And the resulting MP4 video files are quite adequate from a quality standpoint.
The software is very easy to use, so no advanced training is required for the staff members converting the media. At Colgate, they planning to convert VHS tapes on an ongoing basis to make it much easier for faculty and students to view those videos.
More advanced approaches
If you have media which is decaying, or you want to make very high quality archival copies of a wide range of media, you will likely need more equipment and more time. Or, you may want to consider outsourcing to a firm that offers professional video conversion and encoding services.
I recently spoke to Dirk Van Dall, Chief Technology Officer of Broadway Video Digital Media in New York City, which offers a variety of professional services, and has equipment to support a wide range of video formats (e.g., for converting 3/4" U-matic or 1" tape). Dirk explained that they can clean and convert video on legacy media to multiple formats for archiving, editing, and streaming. They can also enhance video by reducing noise and sharpening the video, and they can even do frame-by-frame video restoration. If you peruse their Web site you'll find a white paper on videotape decay and a list of supported video tape and file formats.
There are many similar firms out there, and there are professional and academic groups that focus on media preservation as well. If you're a serious media professional you're surely already aware of these more sophisticated media conversion approaches and resources. If you're non-professional with lots of potentially valuable video on legacy media, be aware that these advanced services exist, and you may find it well worth the expenditure for professional conversion if your media has real value for your organization.
Summary
Many Ensemble Video users want to convert legacy media to streaming formats, then upload, catalog, and publish with Ensemble Video. This blog entry introduces some low-cost, easy-to-use conversion tools and offers a glimpse into what you can gain with a more advanced approach to video conversion.